2023 Marketing Conference
Wednesday, November 1, 2023, 10:00am
Thursday, November 2, 2023, 1:00pm

Calling all credit union marketers: Don't miss this interactive, entertaining conference focused exclusively on marketing trends and strategies!
Conference Agenda:
*Subject to change*
How to Succeed in a Changing Market
Amanda Thomas, Founder & President, TwoScore
How do you compete in a market where everything is changing and to stay up with the latest technologies and trends takes a massive budget? This session will walk you through marketing tactics and other strategies you can employ to not only compete but thrive in the future.
How Well Do You Know Your Community and Members?
Amanda Thomas, Founder & President, TwoScore
Putting together a successful marketing plan requires insight into member behavior and community needs, but how do you find that information? Once you have it, how do you distill it into a plan to achieve your credit union's goals? This session will talk you through various resources available to you, as well as provide practical tips for putting them together in a strategic marketing plan.
Employee Engagement: The Secret Sauce to Unstoppable Marketing
Amanda Thomas, Founder & President, TwoScore
Who are your most powerful brand advocates? Your employees! But if your employees are like the rest of America, only 16% are engaged. One CU, which saw YoY losses in membership, net income, and loans, increased employee engagement and is now one of the top-performing CU's in Ohio. Find out how!
Artificial Intelligence and Credit Union Marketing
Christopher Quereau, Creative Director, Vibrant Brands
You've heard of popular AI tools such as ChatGPT and MidJourney, but what are the practical implications for credit unions, and how can these tools, and other AI platforms, be used to impact your marketing efforts? In this presentation, we will discuss a variety of new and emerging AI technology, and provide demonstrations on how credit unions are using AI to create ads, videos, website content and other marketing communications.
Roundtable Discussion
Facilitated by Zachary Ogden, Director of Member Engagement, New York Credit Union Association
Pearl Harbor or Pearl Jam: Marketing Across the Generations
Mark Arnold, Founder & CEO, On the Mark Strategies
Rotary phones. Touch-tone phones. Cell phones. Smart phones. Each generation identifies itself with unique cultural images. Consumers active in today's marketplace are divided into five distinct groups: Matures, Baby Boomers, Xers, Millennials and Generation Z. Your willingness and adaptability as an aggressive marketer will determine how successful you are in reaching and bridging these critical age ranges. This session provides:
An overview of Matures, Baby Boomers, Generation X, Millennial Generation and Generation Z
Practical ways credit unions can market to each generation
Financial products each generation finds appealing
Creating a Great Strategic Marketing Plan
Mark Arnold, Founder & CEO, On the Mark Strategies
Social media posts. Digital ads. Emails. SEO/SEM. Websites. Newsletters. The amount of work involved in being a credit union marketer is sometimes overwhelming. It is easy to get bogged down into day-to-day tactical items. But successfully competing in today's competitive environment requires more than tactical skills; it also requires a clear vision and strong marketing plan. Get ready for some hands-on instructions specific to planning credit union marketing efforts, including insights on creating an effective strategic marketing plan, implementing the plan and measuring performance, linking brand to the marketing strategy and a look at upcoming trends to incorporate for success.
Session Concludes
Travel Safely!
Location & Lodging:
Saratoga Casino Hotel
342 Jefferson Street
Saratoga Springs, NY 12866
(518) 682-8888
Single/Double: $134 per night

To Reserve Your Room:
Call (518) 682-8888 - Attendees should identify themselves with the New York Credit Union Association's room block to ensure that they receive the group rate.
All reservations will require a one night's room deposit (including applicable taxes and surcharges) or valid credit card to guarantee the reservation.

Hotel Reservation Deadline: Friday, October 13, 2023
Registration:
Educational Investment:
Credit Unions Up to $50 Million in Assets - $275 per person
Credit Unions Over $50 Million in Assets - $549 per person
The New York Credit Union Foundation is proud to support New York credit unions with up to $50 million in assets by underwriting this special rate on Association events. To learn more about the Foundation and its programs, click here.
Registration Deadline: October 20, 2023

Speakers:

Amanda Thomas, Founder & President, TwoScore
As the Founder & President of TwoScore, Amanda's main endeavor is to make an indelible impact on the credit union industry to help them thrive. With over 20 years of experience, Amanda's expertise in marketing, coupled with her unwavering commitment to fostering vibrant organizational cultures and igniting employee engagement, has propelled TwoScore to the forefront of credit union transformation across the United States.
Amanda's journey is marked by her profound contributions to credit unions of varying scales, from $37 million to $200 million in assets. Her distinctive approach to marketing has not only elevated the visibility and reach of these institutions but has also established TwoScore as an indispensable partner to credit unions nationwide.
Recognized as a luminary in her field, Amanda's accolades are a testament to her exceptional achievements. She has been adorned with prestigious awards such as the Ohio Credit Union League Cutting Edge Marketing Brilliance Award, Trailblazer 40 Below, Crash the GAC, and Crash Big.Bright.Minds. Her distinction as a finalist in the 2011 CUES Next Top Credit Union Exec competition further underscores her unwavering commitment to excellence and her enduring impact on the credit union industry.
Amanda's commitment to empowering others shines brightly through her popular podcast and brand, tailored to uplift female entrepreneurs on their journey to creating more vibrant and effervescent lives and turning their dreams into reality.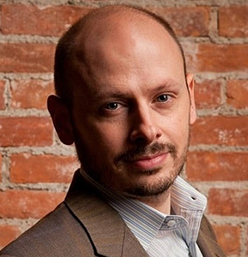 Christopher Quereau, Creative Director, Vibrant Brands
Christopher Quereau is an award-winning creative director and marketing strategist. With an extensive background in marketing and leadership he has helped find effective solutions for the ongoing needs of credit unions. Christopher has published 3 books on marketing. Christopher's credit union clients have been awarded multiple Diamond CUNA awards. He is invested in helping his Credit Union clients learn the sales and marketing strategies they need to grow and thrive in any marketplace.

Mark Arnold, Founder & CEO, On the Mark Strategies
Mark Arnold is an acclaimed speaker and expert in branding, training and strategic marketing for credit unions. Mark helps credit unions and banks achieve their goals with insight and energized training. Speaking regularly to audiences around the country, his many topics including branding, marketing, strategy, leadership, personal growth and generational issues. His breadth of knowledge connects with audiences for keynotes, breakouts and training events. Mark is the author of "Marked for Success: Daily Ideas to Help Your Financial Institution Succeed," "Think Huge: How To Elevate Your Life and Your Business","My Best Service Ever" and "Marketing Across the Generations: Gen. X". He serves as founder/president of On the Mark Strategies, a consulting firm specializing in branding and strategic planning.
Thank you to our sponsor!

Cancellation Policy:
A refund of the amount paid, less an $110 administrative fee per registrant, will be given for all cancellations submitted via email to events.training@nycua.org ten or more business days prior to the start of the session. No refunds will be granted if the cancellation is received after that time frame. Substitutes will be accepted any time prior to the start of the program at no additional cost. Simply email events.training@nycua.org, listing the new participant and who they will be replacing.