Featured Speakers
Every year, the New York Credit Union Association brings in a diverse group of speakers who tell powerful stories and share insightful knowledge. At EXCEL 23, the Association's Annual Meeting & Convention, the speakers are sure to leave attendees feeling inspired, excited and motivated!
Thursday, June 15, 2023
Steven Rick
Director, Chief Economist CUNA Mutual Group
U.S. Economic Outlook & Its Impact on Credit Unions

Steven Rick is a director and the chief economist for CUNA Mutual Group in Madison, Wisconsin. His primary responsibilities include conducting strategic research, analysis, and forecasting of the financial services industry with special emphasis on the consumer and credit union markets.
Rick's forecasts serve as a starting point for the strategic planning process and help to create a clear understanding of the underlying trends and links between the general economy, the financial services industry, and CUNA Mutual Group's policy owners.
Rick publishes the Credit Union Trends Report, a monthly "pulse check" on the economic state of the credit union movement. He has authored a textbook on asset-liability management for credit union executives.
Before joining CUNA Mutual Group, Rick was the senior economist for CUNA & Affiliate's Economics & Statistics Department for 22 years. Rick also serves as Chairman of the Board of Directors of the University of Wisconsin Credit Union, a $5 billion financial institution.
Rick holds a senior lecturer position with the Economics Department at the University of Wisconsin – Madison where he teaches Money & Banking and Macroeconomics courses. He is also the facilitator and instructor for CUNA Management School's Stanford Bank Game, a computerized bank simulation, and has 2 years' experience as a bank simulation advisor for the Prochnow Graduate School of Banking.
Rick has a B.A. in Economics from Moorhead State University; a B.S. in Finance from Moorhead University; and a M.S. in Economics from the University of Wisconsin – Madison. He has also obtained a Ph.D. in Economics at the University of Wisconsin – Madison.

Friday, June 16, 2023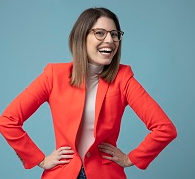 Michelle Poler
Founder of Hello Fears, a social movement inspiring over 50 million people worldwide to choose growth over comfort.

Hello Future: Grow Through Dirt & Rewrite Your Story
"Throw dirt at me and watch me bloom." — Frida Kahlo
Just like flowers grow through dirt, humans grow through challenges. But growth is a choice. We can choose to water ourselves and bloom, or become the victims of our story and dry out. In this talk, Michelle will inspire your audience to: embrace and welcome change, turn obstacles into opportunities, go from anxiety to action, find purpose in the midst of chaos, unleash their authentic creativity to tap into the white space, and rewrite their story to become their own hero.

Through personal storytelling, insightful exercises, and actionable tools, Michelle will lead your audience on a journey through resilience and re-invention, that will change their mindset and build their confidence to land stronger on the other side of this health and economic crisis we're all living through.
Michelle Poler was born and raised in Caracas-Venezuela. She is a creative and passionate social entrepreneur, keynote speaker, fear facer, and branding strategist.
She is the Founder of Hello Fears, a social movement empowering millions to step outside of the comfort zone and tap into their full potential. She has spoken at TEDx, Google, INBOUND, Facebook, ESPN, Netflix, Procter and Gamble, Microsoft, Toyota, World Domination Summit, Festival of Media Global, and many more.
In April 2015, Michelle embarked on a 100-day project that would change the course of her life. Born to a family of Holocaust survivors, Michelle was accustomed to living with fear. But when she moved to New York, she quickly realized that the "big apple" was not for the fearful. In order to rewrite her definition of fear and change her approach to life, Michelle decided to face 100 of her fears in a period of 100 days, uploading every experience to YouTube sharing them with the world.
At around day 40, the project was discovered by the media, becoming a viral phenomenon. Her work has been featured on CBS, CNN, Huffington Post, Buzzfeed, Fox News, Telemundo, Glamour, Elle, The Rachael Ray Show, Refinery29, and Daily Mail among many others. Celebrities such as Ashton Kutcher, Sofia Vergara, Zoey Deschanel, Lil Wayne and George Takei also shared Michelle's project, generating millions of views.
In 2017 Michelle started speaking to the younger generation. Since then, she has empowered over 20,000 students at schools and universities around the world to live with courage, find their authenticity and embrace their growth paths.
Early on in her career she worked as an Art Director at Young & Rubicam for brands such as Hershey's, Wendy's, AT&T and Revlon. Michelle holds a Masters in Branding from the School of Visual Arts in New York City.
John Sileo
Cyber Security Expert, President & CEO The Sileo Group
Blockbuster Cybersecurity in a Zero Trust World
Hackers don't just adapt to change; they bank on it. Has your mindset evolved? The rapid expansion of remote workforces, ransomware gangs, cloud jacking, IoT hacking, supply chain attacks, social engineering and disinformation campaigns have altered the way we must defend our data, reputation, and profits. A faulty adage asserts that humans are your weakest link when in reality, they can be your greatest defense. Cybersecurity doesn't grow from shinier tools, but from the powerful intersection between human beings and technology. In this keynote presentation, John will leverage potent lessons learned from losing everything to cybercrime as well as a humorous live-hacking demonstration to build a Blockbuster Framework for analyzing, organizing, and communicating your powerful cyber defense strategy.
John Sileo lost his million-dollar startup, his wealth, and two years of his life to cybercrime. The losses not only destroyed his company and decimated his life savings but consumed two years of young fatherhood as he fought to stay out of jail. John shares his story and hard-earned wisdom as a cybersecurity expert, award-winning author, 60 Minutes guest and keynote speaker for the Pentagon, Amazon, and thousands of audiences worldwide. President and CEO of The Sileo Group, a Colorado based think tank, John graduated with honors from Harvard University and was recently inducted into the National Speakers Hall of Fame.
John finds his greatest pleasure hiking in the Rocky Mountains with his amazing wife and strong daughters – the lovely family who helped him turn life's lemons into something much sweeter and more fulfilling.
Saturday, June 17, 2023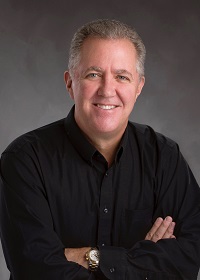 Dennis Snow
Customer Experience Expert, Author of "Lessons from the Mouse"
Delivering A World-Class Member Experience – Lessons From The Mouse
Members have more choices than ever, with the result that most products and services are increasingly seen as commodities. So, in today's market, what can an organization do to stand out from the crowd? Differentiating your service is the key to attracting and retaining members – while driving bottom line results. More than ever members are focused on value - what you can do that other organizations cannot or will not do. Members want to know that you are focused on earning their ongoing loyalty.

Based on his 20-years with Walt Disney World along with many years of consulting with organizations around the world, Dennis Snow will provide a "how-to" program for delivering outstanding member experiences. This program will provide you with strategic tools that can be used to raise the bar of service throughout your organization, resulting in "walk-through-fire" member loyalty.
Participants will learn:
Approaches that help your employees move from a task mindset to an experience mindset.
A process for ensuring that your organization's "backstage" environment never impacts the "onstage" member experience.
Four specific strategies for wowing members every time.
A mechanism for ensuring that your organization's processes are designed through the "lens of the member."
Dennis Snow's customer service abilities were honed over 20 years with the Walt Disney World Company. There, he developed his passion for service excellence and the experience he brings to the worldwide speaking and consulting he does today.

He began his Disney career in 1979 as a front-line attractions operator. As he advanced through the company, Dennis managed various operating areas throughout the park, learning and applying the skills it takes to run a world-class, service-driven organization.
Dennis launched a division of the Disney Institute responsible for consulting with some of the world's largest companies including ExxonMobil, AT&T, General Motors and Coca Cola. During this time, he presented to audiences in diverse locations around the world, such as South Africa, Australia, Mexico, England and Argentina. This division quickly became the fastest growing venture of the Disney Institute and experienced repeat business of nearly 100%.

He also spent several years with the Disney University, teaching corporate philosophy and business practices to cast members and the leadership team. While there, he coordinated the Disney Traditions program, which is universally recognized as a benchmark in corporate training. In his last year with Walt Disney World, Dennis' leadership performance was ranked in the top 3% of the company's leadership team.
Today, Dennis is a full-time speaker, trainer and consultant who helps organizations achieve goals related to customer service, employee development and leadership. Some of his clients include American Express, Johns Hopkins Medicine, ExxonMobil, and Nationwide.

His articles appear in a number of industry publications and he is a featured guest "expert" on customer service, on several business news-talk radio shows. He is the author of the book, Unleashing Excellence: The Complete Guide to Ultimate Customer Service, which has been used in organizations around the world as a blueprint for organizational excellence. His newest book has just been released, titled, "Lessons From the Mouse: A Guide for Applying Disney World's Secrets of Success to Your Organization, Your Career, and Your Life."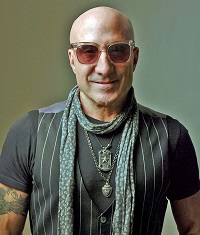 Kenny Aronoff
Rolling Stone "Top 100 Greatest Drummer of All Time," named the #1 Pop/Rock Drummer and #1 Studio Drummer by Modern Drummer Magazine
Kenny has entertained millions of people with his drumming all across the world, played on thousands of records, provided the beat of America's culture for four decades, and has been the "go to" drummer for the biggest stars in music, ranging from John Mellencamp to Lady Gaga, Bob Dylan to The Smashing Pumpkins, and everyone in between!
Why has drummer Kenny Aronoff become the industry's most in-demand for both live concerts and recording sessions?
How did he earn the trust and respect needed to lead the most elite musical acts on the planet?
How has he maintained this reputation over such a long career in one of the most turbulent industries in the world?
What Kenny Aronoff has learned in the process of making his dreams become his reality is the message he delivers as an in-demand keynote speaker. He talks expertly and revealingly with relatable messaging about achievement, teamwork, and leadership in a fun and riveting keynote that gets rave reviews every single time. In simple terms, Kenny shows us how to ROCK!
Kenny Aronoff joined his first band, The Alley Cats, in Massachusetts at age eleven after seeing the BEATLES on the Ed Sullivan Show. A self-taught drummer, he played in local bands throughout junior high and high school. At 16, he decided to focus on classical music studied and played with members of the Boston Symphony Orchestra, including world-renowned timpanist Vic Firth. He went on to study at the University of Massachusetts and at Indiana University, where, among other honors, he was awarded the school's prestigious Performer's Certificate. During summer breaks he played in the symphony orchestras at the Aspen Music Festival (run by The Juilliard School of Music) and the Tanglewood Music Festival (run by the Boston Symphony Orchestra).
After graduating, Kenny was offered timpani positions in several symphony orchestras, but instead studied drum set in Boston and New York. He began to concentrate on jazz and fusion music, and in 1977 he returned to Indiana and spent several years in a popular local band until 1980 when he joined the John Mellencamp band, recording 10 albums and touring with him over a 17-year period. Kenny's innovative style and solid backbeat became the driving force behind Mellencamp's long run of definitive hit records in the '80s and '90s, a list that includes American Fool, Scarecrow, Uh Huh, The Lonesome Jubilee, Whenever We Wanted, Dance Naked, Big Daddy, Human Wheels, Mr. Happy Go Lucky and others.
In the mid-80s, Kenny began an enormously successful career as a studio musician. Today he's among the world's most in-demand session drummers.
Millions of kids watched the Beatles on February 9th, 1964 on the Ed Sullivan show and wished that someday they could be on stage with the likes of Paul McCartney and Ringo Starr. For one boy from a small town in New England, that fantasy and much more became a reality 50 years later. On the television program, "The Night That Changed America" – celebrating the fiftieth anniversary of the Beatles legendary appearance on CBS – Paul McCartney and Ringo Starr thrilled the audience. The drummer playing behind them and many other artists on that monumental night was drummer Kenny Aronoff. During that same show, he also played drums for Stevie Wonder, Dave Grohl, Alicia Keys, John Legend, Joe Walsh, Keith Urban, John Mayer, Jeff Lynne, Pharrell Williams and Brad Paisley. A role comfortable to Kenny, who also has played with various artists at multiple Grammy Awards Shows and Kennedy Center Honors.