Silent Auction
Participate in the Silent Auction
Friday, June 16
Conference Center Ballroom
The Sagamore Resort
5:00 – 6:30 p.m.
Investment: $100 or more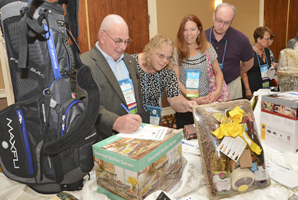 Every year, hundreds of Convention attendees gather at the Silent Auction tables to bid on great items and help raise money for a great cause. This year all proceeds will go to the New York Credit Union Foundation. Coveted items and friendly competition make this event a highlight each year...and 2023 will be no exception!
Thanks to the generosity of numerous credit unions, exhibitors and Convention attendees, tables will be filled with vacation packages, dinner and entertainment tickets, home technology, sporting equipment, jewelry, sporting event tickets, gift baskets and much more.
All EXCEL 23 exhibitors and sponsors are asked to donate an item valued at $100 or more for the Silent Auction.
Suggested items to donate
Electronic equipment
Gift baskets
Handbags and accessories
Hotel or travel packages
Jewelry
Sporting equipment
Theatre and arts tickets
Sporting event tickets
Auction participation instructions
Please complete and submit the Silent Auction Donor Form by email using the instructions provided.

If you prefer to donate cash and have the Association purchase an item on your behalf, please click here to make your donation.


Mail or deliver your auction item using one of the following options:

Mail your item to the New York Credit Union Association, Attn: EXCEL 23, 4 Tower Pl, Fl 5, Albany, NY 12203. Important: Mailed items must be received by May 19.
Hand-deliver your auction item to the EXCEL registration area by 6:00 p.m. on Thursday, June, 15.
Sponsorship opportunities:
Title: $5,000 (Exclusive): Includes logo recognition on appropriate signage, the auction bidding app and the Foundation website.
Table: $2,500 (3 available): Includes recognition on auction table signage, and the Foundation website.
Food & Beverage: $1,000: Includes recognition on food station and bar signage, and the Foundation website.
*Click Review & Checkout to Select Your Sponsorship Level

**Please note that there may be limited circumstances where the Association may not be able to accept a sponsorship due to contractual obligations. Please feel free to email events.training@nycua.org for additional information before selecting your sponsorship.